Oksana Semenova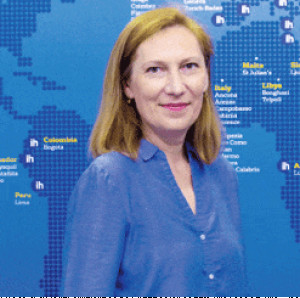 CELTA, DELTA, ICELT, CAM, BET, PTS
Oksana Semenova has experience in teaching at a range of levels in a variety of contexts. She specializes in teaching Business English, English for Specific Purposes and soft skills. She has been teaching and training other teachers in Ukraine, Georgia, Ecuador, Singapore, Kazakhstan, China, Vietnam, Malaysia, Myanmar, Thailand.

She likes learning languages and the diversity her job involves as well as having a chance to work and network with so many professionals in the field. She believes that teaching and teacher training should be done in an interactive, communicative way and in contexts which are meaningful and directly relevant to learners and teachers respectively. She strongly believes in CPD, individual approach and localisation of teaching and training while maintaining and exceeding the set standards. This is what helps her to continuously reflect on her beliefs about teaching and learning as well as understand and relate to the challenges that other teachers might have.

Her work has been her hobby so the boundaries between her working and free time have been quite blurred. She is also interested in learning and experiencing different cultures – we have more in common than we think we do!
Education
Specialist Degree (MA) in Teaching English as a Foreign Language and Psychology, Dnipropetrovsk State University, Ukraine
IH Certificate in the Teaching of English as a Foreign Language to Adults
Foundation Certificate for Teachers of Business in the category: Pass with Credit, English London Chamber of Commerce and Industry Examination Board
Teacher Training and Oral Examiner Training Course for the Euro Exam, Teacher Training Institute and Executive Centre IH Budapest
IH Certificate in Online Teaching (COLT), International House World Organization
IH Director of Studies Certificate, International House World Organization
DELTA, IH Wroclaw, Poland
Certificate in ED Management, British Council, Singapore
Qualifications
CELTA (online and face-to-face trainer)
ICELT (trainer)
CAM - Certificate in Advanced Methodology (trainer)
BET - Business English Teaching (course development – contributor, trainer)
DELTA trainer (online and face-to-face)
Teaching Exam Preparation Classes (course developer and trainer)
INSET programme developer
ED Manager
Participant and speaker at local and international ELT conferences
К списку тренеров